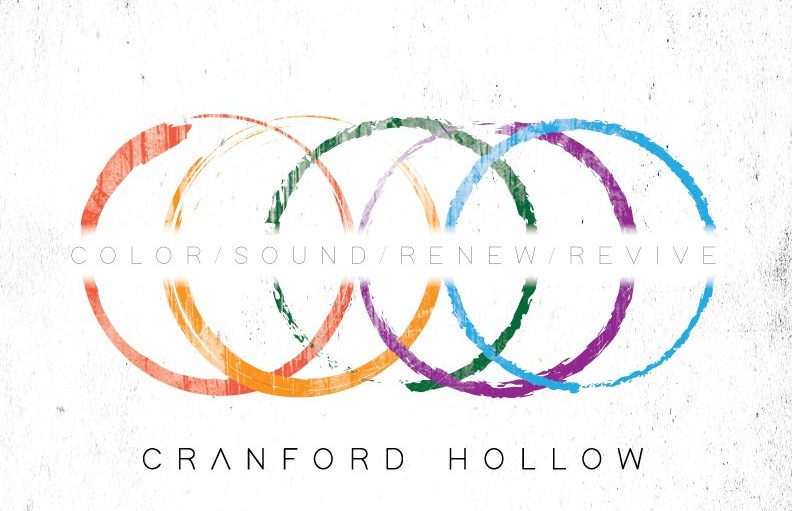 CRANFORD HOLLOW RELEASES "COLOR/SOUND/RENEW/REVIVE"
Psychedelic low country rock act CRANFORD HOLLOW will be releasing their fifth studio album "COLOR/SOUND/RENEW/REVIVE" on November 18, 2016 with a celebratory album release show on their home turf of Hilton Head, SC.
One of the hardest working bands in the southeast, Cranford Hollow has continued upward momentum nationally and will be touring heavily in 2017 to support their strongest release to date.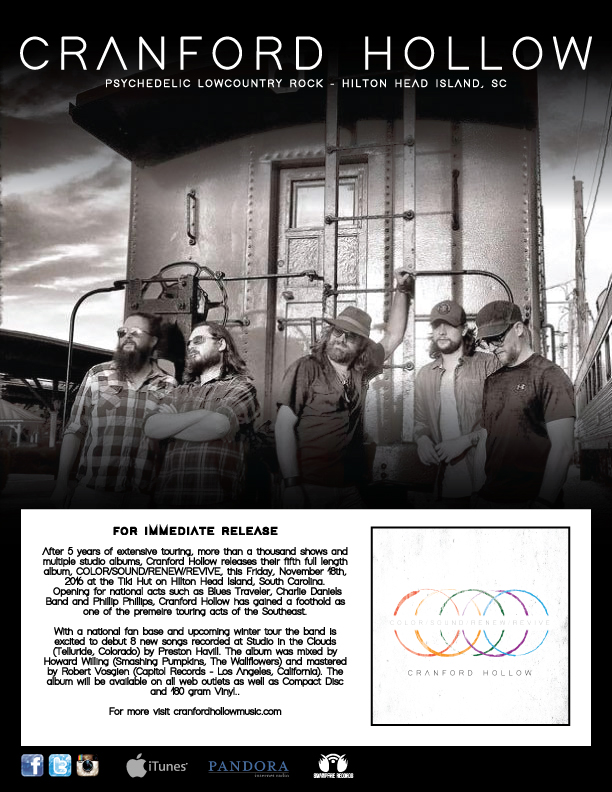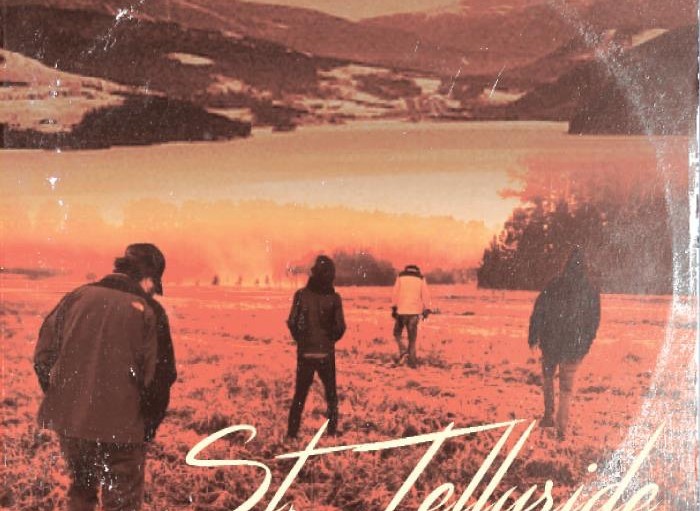 CRANFORD HOLLOW ANNOUNCES RELEASE OF "ST. TELLURIDE"
Americana rock band CRANFORD HOLLOW has received widespread acclaim in their hometown of Hilton Head Island, South Carolina and has steadily been gaining a following in the Southeastern U.S. over the past four years. While building this fan base in places like North Carolina, Georgia, and Tennessee, Cranford Hollow has also struck out to reach new markets in an unexpected area: Colorado.
After partnering with Denver-based booking agency Rocky Mountain Artists, Cranford Hollow launched their first national tour in December of 2013, promoting their self-titled album released two months previously. Notable shows included the Black Nugget in Carbondale, Carl's Tavern in Steamboat Springs, and Sancho's in Denver. A venue that really reverberated with the band, however, was the Telluride watering hole known as the Fly Me to the Moon Saloon.
Cranford Hollow returned to the West in the summer of 2014, selling out Fly Me to the Moon with a raucous Fourth of July concert. The band also expanded into New Mexico, with shows at Taos Mesa Brewing and Albuquerque's Marble Brewery. Another western run this past winter saw another sold out Fly Me to the Moon concert, this time for New Years' Eve, as well as a return to Carbondale's Black Nugget and a rowdy get-together with Whitewater Ramble at Cervantes' Other Side in Denver.
Cranford Hollow will be embarking on their fourth journey to the Mountain West this summer, playing their first of 22 shows in Roanoke, Virginia on June 17. Over the span ofseven weeks and 7,000 miles, the band will make their way through Tennessee, Mississippi, Arkansas, and Kansas before returning to Taos Mesa Brewing July 1 and Marble Brewery in Albuquerque July 2. Cranford Hollow will be making their fourth appearance at Telluride's FlyMe to the Moon Saloon with their second consecutive Fourth of July concert. The band will tour the west for the remainder of July, heading up to West Yellowstone, Montana for a show at the Wild West Saloon July 25.
The band will be promoting their fourth studio album St. Telluride, which was partially produced just outside of Telluride, Colorado, as well as in St. Augustine, Florida. The ten-track album will be released on August 11, 2015 on the band's record label Swampfire Records. Check out Cranford Hollow's full tour schedule and preorder St. Telluride today at https://cranfordhollow.bandcamp.com.