COLD RIVER CITY (Boulder, CO)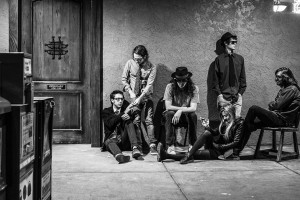 Born to groove, Cold River City is the love child of funky soul and dirty blues. Fronted by Emma Fields and Brian Hubbert, the six piece live band features seductive vocal harmonies, screaming slide guitar, and a tight rhythm section guaranteed to make you get down with your bad self. The band draws their sound from a variety of genres, creating a fun and danceable style they call Psychedelic Groove Soul.
The band's versatile sound has given them the opportunity to share the stage with a diverse list of acts that include The Revivalists, Matisyahu and Elephant Revival and have played an impressive list of Colorado venues including the Fox Theatre, Boulder Theater, Ogden Theater, Bluebird Theater, Cervantes Masterpiece and The Belly Up Aspen.
Having traveled coast to coast and played shows in twenty-five states, Cold River City is no stranger to road life. However, the band has also taken time to hit the studio and try to capture the magic that happens live.
"Thank You. Sorry. Love You." is the most recent release from Cold River City. The EP "features five songs that offer all the dance-inducing and soul-yearning sounds that fans have come to admire. Highlights include the catchy chorus of the opening track, 'Burn the Money,' and the sprinting lust song 'Could It Be'. Throughout is singer Emma Fields' unmistakable pixie-timbred soul delivery. Fields' voice is like a Deringer — dollish but dangerous" (Second Story Garage).
Through the coming months you can find Cold River City rocking out around the Front Range and through the mountains of Colorado as they continue to push the boundaries of rock n roll. Through the rest of 2016 the band will be returning to some of their favorite spots nationwide to keep the groove alive and get people moving.
---