GRAVY summer 2015 Colorado tour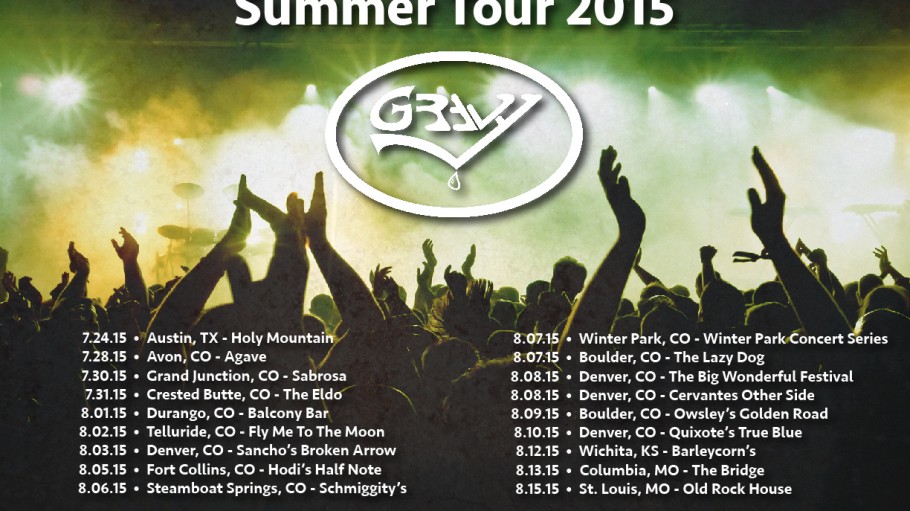 GRAVY SUMMER 2015 COLORADO TOUR
---
Rocky Mountain Artists is very pleased to announce a summer Colorado tour for GRAVY out of New Orleans, LA. This is the third tour we have done for this great up and coming funk/soul and in conjunction with Venture Music out of Nashville, TN. The tour features the second straight year of the band performing the Telluride Jazz Festival closing late night show at Fly Me To The Moon in Telluride.
You can check out GRAVY in Colorado at the following dates:

7/24 (Fri) – Holy Mountain – Austin, TX
7/28 (Tue) – Agave – Avon, CO
7/30 (Thu) – Cruiser's – Grand Junction, CO
7/31 (Fri) – The Eldo – Fort Collins, CO
8/1 (Sat) – Balcony Bar – Durango, CO
8/2 (Sun) – Fly Me To The Moon – Telluride, CO
8/3 (Mon) – Sancho's – Denver, CO
8/5 (Wed) – Hodi's Half Note – Fort Collins, CO
8/6 (Thu) – Schmiggity's – Steamboat Springs, CO
8/7 (Fri day) – Winter Park Resort – Winter Park, CO
8/7 (Fri) – The Lazy Dog – Boulder, CO
8/8 (Sat day) – The Big Wonderful – Denver, CO
8/8 (Sat) – Cervante's Other Side – Denver, CO (with Zobomaze and Whiskey Tango)
8/9 (Sun) – Owsley's – Boulder, CO
8/10 (Mon) – Quixote's – Denver, CO
8/12 (Wed) – Barleycorn's – Wichita, KS
8/13 (Thu) – The Bridge – Columbia, MO
8/15 (Sat) – Old Rock House – St. Louis, MO (supporting Earphunk)

---
Gravy is the culmination of four distinct views of musical appreciation, quickly climbing the ranks of the New Orleans music scene, providing a mix of styles and genres that satisfy the most sophisticated palette and has cemented the band's place in New Orleans music scene.
You may have caught them on WWOZ, playing the French Quarter Festival and Wednesday At The Square, at late night shows during New Orleans Jazz Fest, or rocking out at any number of local clubs and bars, such as Tipitina's, The Blue Nile, and The Maple Leaf.
Gravy is fresh out of the studio, having just recorded their sophomore album, "The Hard Way". It features guest appearances from some of New Orleans' finest musicians like Johnny Vidacovich and CR Gruver, and has further established Gravy as a staying force in the New Orleans scene.
Gravy's debut album, "Said & Done", was recorded at New Orleans' own Piety Street Studios, and saw the band collaborate with such icons as producer Mark Bingham, saxophonist Ben Ellman of Galactic, and Corey Henry of The Rebirth Brass Band and Galactic on trombone. Along with praising reviews from local magazines, Said & Done has become a local favorite, seeing extended air play on radio station WWOZ, which is widely known for it's loyalty to maintaining a rich musical scene in New Orleans.
Along with "The Hard Way" and "Said & Done", Gravy can be found on the Southern Comfort "Start The Music Up" Compilation CD, a tribute to New Orleans Musicians, alongside artists such as Galactic, Cowboy Mouth, Professor Longhair, Jon Cleary, Theresa Andersson, The Rebirth Brass Band, and Johnny Sketch & The Dirty Notes.
Gravy has also been featured in Relix Magazine, in the regular "Listen Up" section.