JOSH ROBERTS & The HINGES (Charleston, SC)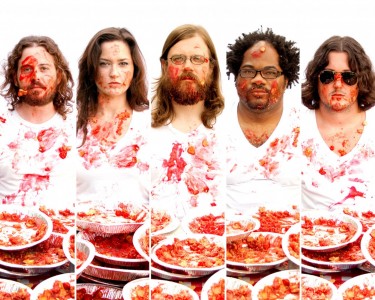 Josh Roberts & The Hinges formed in early 2005 in Columbia, SC and immediately began touring and recording. Embedded in their style of rock and roll are blues, country, punk and soul influences that link elegant harmonies with the raunchy guitar work of Josh Roberts. Their powerful sound is raw and uncompromising, creating new rock and roll anthems that leave their dedicated fans speechless…and sometimes exhausted, yet always wanting more.
"I want to cross folk mystery with country and blues emotion and AC/DC power," said Josh Roberts. "We want to make melting pot American music, real rock and roll music with the roots showing."
Their first album, "The Sugar Bird Test" was released in September 2005. It's a bash-it-out, live-in-the-studio rock record, with vocal parties and spontaneous songwriting. The album is largely a love letter from Josh to Leslie, mixed with some traditional folk themes. "The Sugar Bird Test" received excellent reviews for its ear-blowing guitar riffs and catchy, engaging choruses.
In 2007, the band released "My War Cry is Amor," a cinematic, emotional and literary Thanksgiving dinner of rock. Although each song stands powerfully alone, this is truly an album, one that explores the dualities of man and God, love and war, and true life and death, all with virtuoso musicianship and the kind of happy accidents that made it exciting for the band to make and intriguing for fans to hear. Some songs were co-written by Ryan Monroe, a member of Band of Horses and Josh's former bandmate in Captain Easy.
Josh released a solo album titled "Are You Going to Eat That?" in 2008, which was recorded at Brakentracks in Columbia, SC and produced by Alan Moon. Josh had been doing solo/duo acoustic music for years, but had never released a proper record. Josh was joined in the studio by Larry Gornto (original Hinges drummer), Harris Gardner (mandolin), Dennis Steele (pedal steel), Alan Moon (bass), and Leslie Branham and Nicole Hagenmeyer (vocals).
Josh Roberts has performed across the country from Denver to D.C. and has shared stages with artists as diverse as Band of Horses, Drive by Truckers, Jason Isbell and the 400 Unit, Big Head Todd and the Monsters, Billy Joe Shaver, Dead Confederate, Robert Earle Keen, 2 Skinee J's, JGB, Moonshine Still, Robert Randolph, Patrick Davis, Stockholm Syndrome, Angie Aparo, Leon Russell, Sevendust, Acoustic Syndicate, moe., 7 Mary 3, Five Eight, and many more.
---
"This is my favorite band. There aren't many groups out there that play a festival like a bar gig and a bar gig like a festival, but Josh Roberts And The Hinges do exactly that. When the Hinges are onstage, I get the impression that they are the only people on earth who are aware of a missile headed toward the gig that will blow everyone to bits on the final, final chord of their set. It's as if three men in suits and shades always come backstage five minutes before they go on and give them this classified information, and they are sworn to secrecy in order not to cause a panic. The Hinges are a warning of some sort; I can't quite put a finger on it, and I fucking love it. Josh is a goose-bump-inducing songwriter, poet, guitar-slingin' badass and inspires me to no end. The Hinges are the real deal, folks. Consider this is your first warning."
– Ryan Monroe (Band of Horses), Magnetmagazine.com
"…On stage and in the studio, Josh Roberts and the Hinges embody that spark that made titans of Dylan in the '60s, Neil Young in the '70s, and Springsteen in the '80s."
"…the touchstone is Roberts' most excellent way with words. Whether he's inspired by The Tudors, Smokey and the Bandit, or contemplating the duality of man, Roberts taps into something universally true, amazing, and truly amazing.
"Roberts has been making music — good music — for a long while, but on last year's "My War Cry is Amor," the son-of-a-gun painted his masterpiece. All hyperbole aside, "My War Cry is Amor" is a sprawling, cinemascopic set of blessed Rock'n'Roll that only the south seems capable of producing.
— Kevin Langston, Free Times (Columbia, SC)