LOWDOWN BRASS BAND WINTER 2017 COLORADO TOUR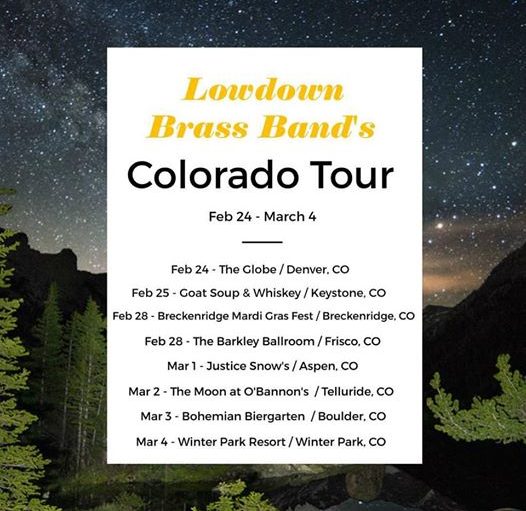 LOWDOWN BRASS BAND WINTER 2017 COLORADO TOUR
---
Rocky Mountain Artists is very pleased to announce a winter Colorado tour for
LOWDOWN BRASS BAND (Chicago, IL)

---

LOWDOWN BRASS BAND out of Chicago will be coming to Colorado for a ski season tour in late February and early March centered around several ski resort appearances for Mardi Gras and Fat Tuesday.

You can check out LOWDOWN BRASS BAND at the following dates:

2/24 (Fri) – Globe Hall – Denver, CO*
2/25 (Sat) – The Goat – Keystone, CO
2/28 (Tue) – Breckenridge Resort Fat Tuesday celebration – Breckenridge, CO
2/28 (Tue) – Barkley Ballroom – Frisco, CO
3/1 (Wed) – Justice Snow's – Aspen, CO
3/2 (Thu) – The Moon @ O'Bannon's – Telluride, CO
3/3 (Fri) – Bohemian Biergarten – Boulder, CO
3/4 (Sat) – Winter Park Resort – Winter Park, CO

* = with Krewe de Groove
---
The Lowdown Brass Band, hailing from Chicago, is a horn-driven tour de force. From street beat to metal, the LDB showcases their unique high-energy style on their latest release "Lowdown Sounds," which includes their version of Roy Ayers' R&B classic "Everybody Loves the Sunshine," featuring the soul legend himself on vocals and vibraphone.
The LDB breaks the barrier between audience and performer with their live show, which features dynamic vocalists, hip-hop MCs, and body movement that gets any wallflower up and on their feet. The Lowdown Brass Band has performed at some of the premier venues and festivals in Chicago, throughout the United States, and across the globe, including: The Metro, Double Door, Lincoln Hall, Schuba's, House of Blues, Cubby Bear, The Promontory, Hideout, Andy's Jazz Club, Cliff Bell's, Taste of Chicago, Wakarusa, Meijer Gardens, and the Cotai Jazz and Blues Festival. The LDB has had the pleasure of sharing the stage with such artists as: Lake Street Dive, G Love and the Special Sauce, Dumpstaphunk, The Stooges Brass Band, Ricky B, Wycliffe Gordon, Bonerama, JC Brooks & the Uptown Sound, The O' My's, and The Drastics.