SELASEE & THE FAFA FAMILY (Boulder, CO)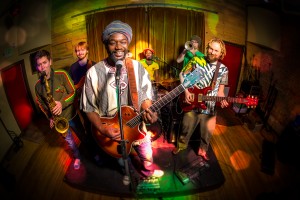 Born in Accra, Ghana, Selasee grew up exposed to the colorful and energetic sounds of Highlife Music. With this exposure Selasee created his own style—a unique blend of Reggae, West African Highlife and American Pop music. Threading together English and West African lyrics for a bright and captivating sound. Growing up in Accra, he realized his passion for music and gained a good understanding on music's effect on people. Performing at school, church and being around his elders, Selasee developed and cultivated his musical talents. In 1995, he formed the African Pop group Makuma thus releasing a self titled album "Makuma." In 1996, Selasee formed a gospel group called Heart To Heart who in 1997 recorded a debut album "Love For All" followed by "Heart To Heart."
In 2003, Selasee immigrated to the US where he continued to aspire on his solo career.  During this time, Selasee signed on with Running Dreams Records under management with Sean Cassidy.  In 2005, Selasee recorded his debut album "Run" on Running Dreams Records. That same year the title track "Run" won first place in the World Music genre of the International Song Writers Competition. The Tracks "Run" and "Makuma" were also featured in the 2006 FIFA Soccer and 2007 Cricket video games by EA Sports.
In 2006, Selasee performed at MIDEM 06' in Nice, France and MUSEXPO 06' in Los Angeles, California. In 2009 he was honored by The Independent Music Awards winning the "Best World Fusion Song" award.
In 2010, Selasee recorded and released his latest album named "African Gate"  on Black Eye Watching Label. In  2013, Selasee  embarked on a new album being produced by the legendary Aston "Family Man" Barrett of Bob Marley & The Wailers—Bob Marley's Music Director. This album will also include special appearances by the Legendary Frankie Paul, Anthony B as well a number of up and coming reggae artists.  The album is due to be released in the later part of  2014.
On the touring circuit, Selasee has shared the stage with reggae legends Steel Pulse, The Wailers, Third World, The Mighty Diamonds, Don Carlos, Barrington Levy, King Yellowman, The Melodians and Anthony B. ….most recently in 2014,he has shared stages with Steel Pulse,Taurus Riley Beenie Man and Julian Marley among others….
In his own words—"Humility is power!"