STOLEN RHODES (Philadelphia, PA)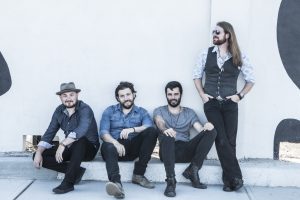 Several words and phrases come to mind when seeing a live Stolen Rhodes performance for the first time: fiery, sensational, tough as nails, hotter than a rattlesnake in a toaster oven…
Combining blues and rock with a touch of country and a heap of nostalgia, Philadelphia, PA (USA) rockers Kevin Cunningham (guitar), Jack Zaferes (bass), Matt Pillion (vocals, guitar, keys, saxophone) and Chris James (drums) have spent the past year and a half touring in support of their critically acclaimed Slow Horse EP. The tour included over 250 dates plus festivals such as SXSW, Sturgis, Daytona Bike Week, and Rocklahoma. They opened for iconic artists such as Lynyrd Skynyrd, Robert Randolph, Drivin' N Cryin' and Blackberry Smoke. They also spent a month touring as support for the Marshall Tucker Band. Their energetic, crowd-pleasing performances subsequently led to spots on Skynyrd's final Simple Man Cruise and the Lebrewski Cruise playing with Molly Hatchet, O.A.R. and Blackfoot.
In January 2016, Stolen Rhodes returned to the studio to record their highly anticipated full-length album Bend With The Wind. Recorded at Dylanava Studios outside of Philadelphia with the assistance of producer David Ivory (Halestorm, The Roots, Silvertide) and mastered by Ted Jensen (The Eagles, John Mayer, AC/DC), Bend With The Wind includes several songs the group has road tested over the years, with a few that were written right in the studio, which was a first for them.
Stolen Rhodes will be on the road throughout 2017 scheduled to play over 150 shows, including stops all over the Northeast, Southeast, South and Midwest. They'll be opening for bands like Blackberry Smoke, Gov't Mule and the Marshall Tucker Band, along with touring on their own. Besides participating in large annual music festivals such as Milwaukee's Summerfest, Rocklahoma and Alabama's Toadlick Music Festival, Stolen Rhodes will be opening for the formidable Miranda Lambert at the Sturgis Motorcycle Rally before heading across the pond in 2017 for their first European tour.
With their fiery, gasoline-laden live shows and catchy songs, Stolen Rhodes will blow your mind and quite possibly bruise your soul, as well.
---
THAT MUSIC MAG – Stolen Rhodes Keep on Blazing That Rock & Roll Highway With a New Album and Tour
http://www.thatmusicmag.com/index.php/2016/04/stolen-rhodes-keep-on-blazing-that-rock-roll-highway-with-a-new-album-and-tour/
"With their fiery, gasoline-laden live shows and catchy songs, Stolen Rhodes will blow your mind and quite possibly, bruise your soul, as well."
THE AQUARIAN – Shoreworld: Stolen Rhodes
http://www.theaquarian.com/2014/10/29/shoreworld-stolen-rhodes-slow-horse/
"Stolen Rhodes is a band that needs to be here for so many reasons. They bring the true honesty of old school music into keen focus, and they pack a wallop while doing it. Sure, they don't have a cool beard like Abraham Lincoln, and they probably don't wear skinny jeans and drink pumpkin lattes, but what they do is keep us exploring new avenues for inventive music. They put an important form of American music into the forefront of our minds, and that's a great thing in this disintegrating industry of drivel."
---