Afro Zep winter 2015 Colorado tour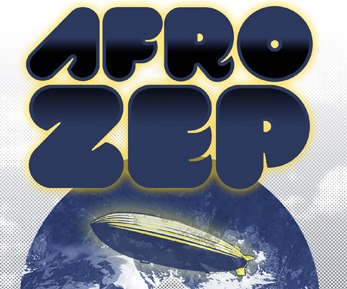 Rocky Mountain Artists is very pleased to announce a February Colorado tour for AFRO ZEP out of Chicago. Featuring members of KAVA, Afro Zep puts a fresh new twist on Led Zeppelin's catalog, recreating the songs with African musical influences and featuring horns and percussion.  You can check out the band in February at the following dates:
02.06 (Fri) The 1 Up – Denver (co-bill with Springdale Quartet)
02.07 (Sat) Aztec, NM – Crash Music
02.08 (Sun) Boulder, CO – Mountain Sun
02.09 (Mon) Boulder, CO – Southern Sun
02.11 (Wed) Breckenridge, CO – Gold Pan Saloon
02.12 (Thu) Steamboat Springs, CO – Old Town Pub
02.13 (Fri) 1860 Tavern – Empire, CO
02.14 (Sat early) Winter Park Resort – Winter Park, CO
02.14 (Sat late) Keystone, CO – The Goat

http://afrozep.com/
https://www.facebook.com/afrozep
http://kavatheband.com

AfroZep is a band that plays high-energy afro-beat and afro-pop versions of Led Zeppelin songs, complete with horns and percussion.  Wilson, Marshall and Ryan conceptualized the idea in the Summer of 2009. Less than 6 months later they were touring the Midwest performing in St. Louis, Iowa City, Kansas City, Madison and Rock Island.  Their first hometown performance was a few months later at the Bottom Lounge and a few months after that AfroZep was being recognized by critics from the Chicago Reader and were voted Best Led Zeppelin Cover Band.  The band hit the studio shortly after that and quickly gained the attention of Richard Milne at WXRT where they were listed as 'Our Led Zeppelin Cover Band of Choice'.  Less than two years later AfroZep has headlined clubs such as the Fox Theatre in Boulder, Quixoes in Denver and Lincoln Hall in Chicago; performed at Universities, festivals and private parties and opened for national and international touring acts such as Cornmeal and Tinariwen.